Kvinnor på topp
---
Under lång tid har arbetsmarknaden präglats av ett mönster där män har högre inkomster och bättre karriärutveckling än kvinnor. Den här rapporten visar att detta mönster nu börjar luckras upp. Rapporten baseras på en jämförelse av kvinnor och mäns löner i 239 yrken, efter hänsyn till observerbara skillnader i arbetad tid, utbildning, ålder och sektor.
Immateriellt värdeskapande i Sverige
---
Nästan alla företag i Sverige förlitar sig i viss utsträckning på varumärken, patent, upphovsrätt, design och andra former av immaterialrätt. Denna rapport redovisar hur stor del av näringslivet som är intensivt beroende av immaterialrätt. Det visar sig att en stor del av jobben och en ännu större del av värdeskapandet sker i företag med stark förlitan på dessa rättigheter.
Europe's Brain Business Jobs 2018
---
In this report, Dr. Nima Sanandaji maps knowledge-intensive businesses across Europe in detail and analyses changes in this respect since last year's index. It is perhaps the most extensive study of the European knowledge economy to date. The study significantly advances our understanding of the geography of knowledge industries – and highlights their importance for future income and productivity growth in Europe.
Jämställdhet – en klok affär
---
I rapporten Jämställdhet – en klok affär går Nima Sanandaji igenom reformer som kan främja kvinnors karriärer och samtidigt öka lönsamheten för företagande. Reformerna handlar om bland annat om att stärka konkurrensen i den kvinnodominerade välfärdssektorn genom att stimulera privata alternativ, uppmuntra övergång till individuell lönesättning och göra det enklare att fokusera på arbete för föräldrar.
The Geography of Europe's Brain Business Jobs
---
In a groundbreaking report published by ECEPR, Dr. Nima Sanandaji and Prof. Stefan Fölster map knowledge-intensive businesses across Europe in detail. The report is titled "The Geography of Europe's Brain Business Jobs" – and is perhaps the most extensive study of the European knowledge economy to date. The study significantly advances our understanding of the geography of knowledge industries – and highlights their importance for future income and productivity growth in Europe.
Kompetens 
ä
r industrins stora bromskloss
---
Industrin och industrinära tjänster står för hela tre fjärdedelar av Sveriges export. Forskningen visar också att för varje kvalificerat industriarbete som skapas i en region skapas ytterligare tre arbeten tack vare industrins effekter på lokal jobbtillväxt. Det är därför bekymmersamt att svensk industris utveckling under senare tid har stagnerat. Läs Attila Fabians essä för ECEPR om hur vi kan vända trenden.
Friskolorna och PISA
---
I en rapport från ECEPR genomförs en djupgående analys över PISA-resultaten i kommunala respektive fristående skolor. Analysen visar att eleverna, efter kontroll för en rad bakgrundsvariabler, presterar signifikant bättre i samtliga tre ämnen i fristående skolor. Rapporten lyfter fram vad fristående skolor och kommunala skolor kan lära sig av varandra för att förbättra resultaten.
E-böcker och framtiden
---
Elektroniska böcker som läses med hjälp av en dator, surfplatta, läsplatta eller annan liknande utrustning har under 2000-talet blivit en stor konkurrent till traditionella pappersböcker. Försäljningen av pappersböcker sjunker över hela världen medan e-boksförsäljningen ökar. Men inte i Sverige. Läs Agnes Karnatz essä för ECEPR om vad detta beror på.
Vi bör främja, inte förstöra, digitaliseringen
---
För oss som har växt upp under 80-talet och framåt har digitala tjänster som datorer och mobiltelefoner varit en naturlig del av vardagen. Vi har vant oss vid en snabb digital utvecklingstakt, där den teknik som är modern idag snart är att betrakta som ålderdomlig. Samtidigt har Sverige hittills haft en bristfällig hantering av nya digitala tjänster, vilket vi har fått betala ett högt pris för. Digitaliseringen kommer att fortsätta och för att inte upprepa tidigare misstag bör Sverige ha en mer lösningsfokuserad politik. Det skriver Olof Kollinius i en ny essä för ECEPR.
Optionsskatter och entreprenörskap
---
Hur kan 11 800 fler personer stimuleras till att satsa på entreprenörskap medan ytterligare 150 miljarder kronor i riskkapitalinvesteringar satsas på nya tillväxtföretag? I en studie som publiceras av ECEPR visar Gabriel Heller Sahlgren och Nima Sanandaji, på basis av en modell baserat på internationella jämförelser, att detta sannolikt kan bli utfallet av en reform av beskattningen av personaloptioner. Rapporten kan laddas ned här.
Skattesystemet lägger krokben för småföretagare
---
I år är det 10 år sedan Spotify startades. Ett företag med 1 500 anställda och 60 miljoner användare. Spotify är värderat till 75 miljarder kronor, lika mycket som Skanska som har funnits i hundra år. Att nå samma ekonomiska värde på en tiondel av tiden är både otroligt och inspirerande. Det måste bli möjligt för fler nystartade företag att göra samma resa som Spotify. Det är dags att göra vårt skattesystem mer företagsvänligt, skriver Sofia Widegren i en ny essä för ECEPR.
Disrupting Global Value Chains
---
In this new study by ECEPR, Dr Nima Sanandaji and Dennis Avorin reveals the extent of trade impact from American sanctions on two U.S. allies and non-sanctioning economies, Israel and Switzerland, and conclude the total trade loss of these economies to 680 million USD and 2.38 billion USD respectively. While it is widely believed that targeted sanctions limit the collateral damage on third parties, this report shows that in terms of exports, trade losses of non-sanctioning countries amount to the same levels as for sanctioning countries.
The future of jobs
---
In the coming years, up to half of the jobs that exist today can be expected to either disappear or change significantly. The reason is that digitalisation and the rapid gains made in robotics are creating a massive shift in the labour market. Previously, automatization mainly affected jobs in manufacturing, farming, mining, and forestry. But today, the rise of intelligent computer systems puts pressure also on skilled office jobs. How can the labour market adapt to the disruptive changes brought by new technology? In what sectors will the jobs of the future exist? How are societal shifts – such as increased global competition, urbanisation, and increased specialisation – affected by the shifts in technology?
An Industrial Renaissance 
---
A common misunderstanding in today's policy environment is that manufacturing industries are a thing of the past. In reality, manufacturing continues to play a central role in the modern knowledge-intensive economy. Growth does not occur separately in the service or manufacturing sectors, but rather through a synergy between the two. The lion's share of exports, as well as investments in R&D, in Europe can be found in the manufacturing sector. It is worrying that manufacturing businesses are struggling to grow in the face of increased global competition. Many European economies have lower industrial output today than before the global crisis of 2007/2008. Although competition from countries such as China is important, an industrial renaissance for Europe is within grasp – if only the right policy environment can be created.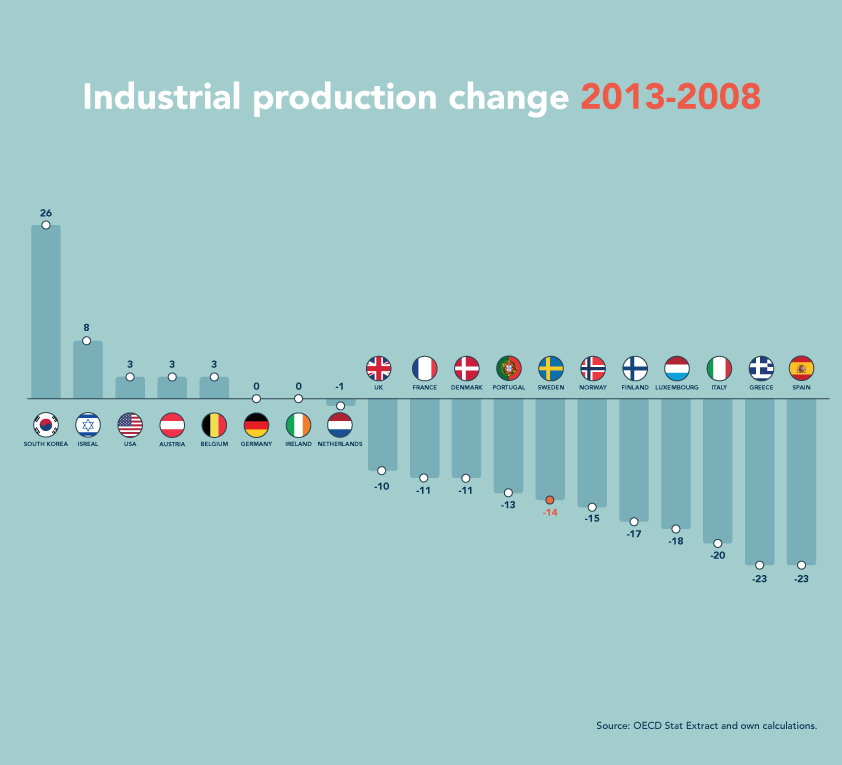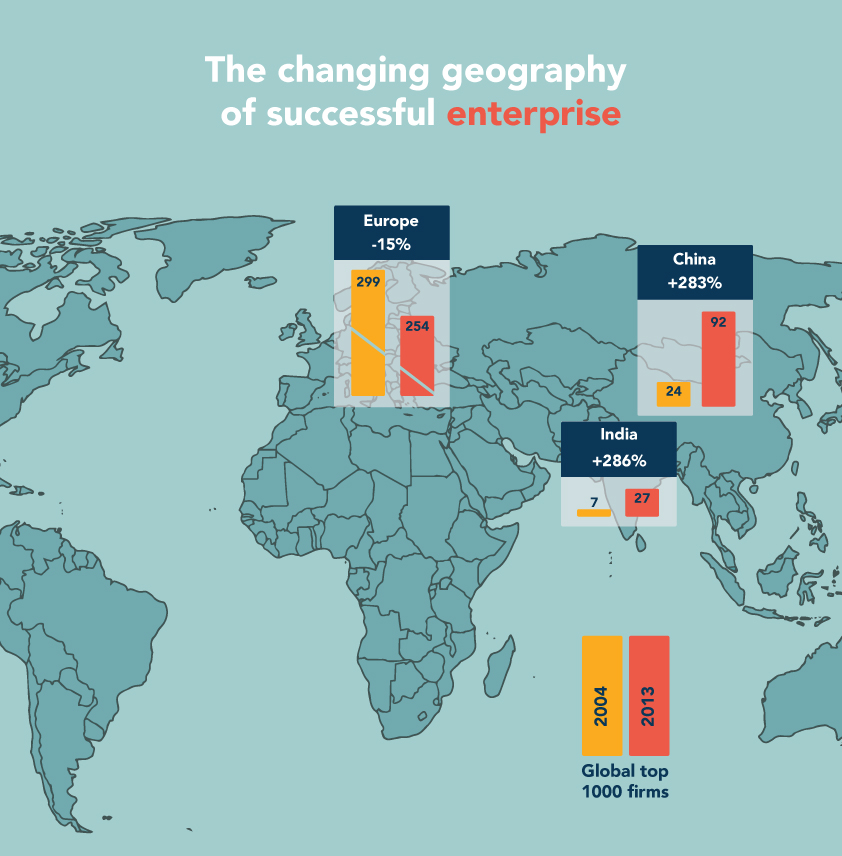 Entrepreneurship 
---
The geography of successful enterprise is rapidly changing. In recent years, the share of global top-1000 firms located in Europe has dropped significantly. At the same time, such shares have increased sharply in China, India, and other emergent markets. Large European firms, which in many cases were founded more than a century ago, are competing with a new generation of Asian businesses.
If Europe is to continue to thrive, its business climate must be improved. Investments in innovation and infrastructure, a skilled workforce prepared for a changing labour market, and competitive regulatory and tax systems are needed if Europe is to achieve a new entrepreneurial boom.
Skills and innovation 
---
For long, government policy has aimed to foster investments in physical capital. In the modern economy, however, the main constraint of many businesses is no longer physical capital, but rather poor access to skilled workers and knowledge-based capital. In order to prosper in the 21st century, Europe must therefore become a global leader in skills and innovation.
Much can be done to improve school performance across Europe. And with focus and increased investments, more European universities will be able to compete with the best American universities, such as Harvard, MIT, and Stanford. In addition, investments in innovation must be expanded. Although most European economies are investing substantially in R&D, the UK and Sweden are worryingly moving in the opposite direction. In order to rise to the challenges of the future, Europe needs a stronger commitment to education in all its forms.